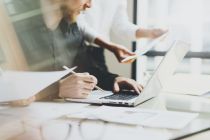 Sponsored Content
Partner Content for Innovate Online
For small businesses, having a strong and stable wireless connection is crucial to business success, whether used for interacting with clients, handling transactions or accessing online resources. To help you decide which mesh Wi-Fi network is most suitable for your business, let's explore our top picks for the best Wi-Fi mesh routers tailored for small […]
Bishop Gorman closed out the out-of-state portion of its schedule with a 56-28 win over No. 21 Centennial (California) to enter league play 4-0.
Former UNLV defensive lineman Adam Plant was among nine undrafted free agents the Raiders signed Saturday after the conclusion of the NFL draft.
The teen killed in a shooting in a hotel room just off the Las Vegas Strip was a student at Legacy High School in North Las Vegas and played football there.
Desert Oasis won the Class 4A flag football state title Friday. The Diamondbacks had dedicated their season to teammate Ashari Hughes, who died Jan. 5.