House GOP to call witnesses at 1st Biden impeachment probe hearing
September 27, 2023 - 2:00 pm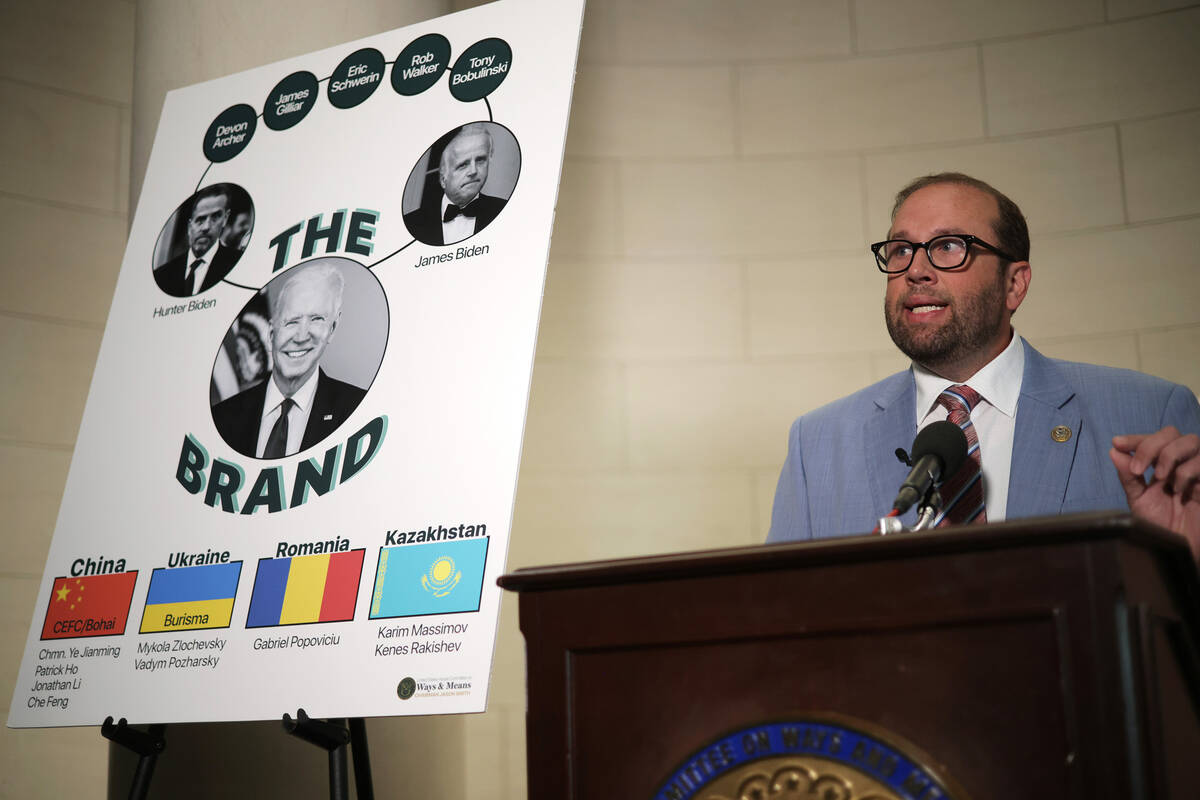 WASHINGTON — House Republicans plan to have three witnesses testify Thursday at their first hearing on the impeachment investigation of President Joe Biden, which conservative lawmakers say will be used to outline the basis for their high-profile probe.
The House Committee on Oversight and Accountability announcement said the hearing would "examine the value of an impeachment inquiry" and outline information regarding Biden. Democrats dismiss the inquiry as baseless.
Committee Chairman James R. Comer, R-Ky., said in an interview Tuesday that the committee will go over all the evidence they've accumulated so far. That discussion will include information he released that the committee says shows the president's son, Hunter Biden, receiving payments that originated from Chinese nationals — information Speaker Kevin McCarthy mentioned at a press conference Tuesday.
Comer, in announcing the hearing, said the panel will hear from experts about "crimes the Bidens may have committed." The committee announced that witnesses will be Bruce Dubinsky, a forensic accountant; Eileen O'Connor, a former assistant attorney general at the Justice Department's Tax Division; and Jonathan Turley, a legal scholar who has testified in previous impeachment inquiries.
Rep. Jamie Raskin of Maryland, who is the top Democrat on the panel, says Republicans, despite all their investigating, have turned up zero evidence of wrongdoing against President Biden.
"They haven't laid a glove on him. So if they go forward with this ridiculous impeachment, we will make them demonstrate what are the factual building blocks of it," Raskin said in an MSNBC interview this month.
"I think a lot of them, including Marjorie Taylor Greene and Matt Gaetz, would love to rush this thing to the floor so they can all make a bunch of phony speeches. But there's no evidence there," Raskin said.
Comer also said he's planning to hold another hearing in the middle of October.
Some Republican messaging about the impeachment inquiry has included misleading statements and currently unproven allegations about President Biden. For example, a Republican memorandum states that President Biden's family "is the vehicle to receive bribery payments." No definitive evidence has been made public yet that President Biden took a bribe.
House Republicans have also pointed to an unclassified FBI record that they say describes an alleged scheme involving "then-Vice President Biden and a foreign national relating to the exchange of money for policy decisions." But the FBI has said that the type of form contains raw, unverified information from confidential human sources. Those records merely document what's been told to the FBI and do not reflect the conclusion of investigators, the agency has said.
But the impeachment probe provides Republicans with a vehicle to further investigate allegations and potentially find new information, along with giving a platform to air accusations.
GOP lawmakers have been pulling threads on Hunter Biden's past business dealings and probing whether the activities compromised U.S. national security or influenced President Biden's impartiality.
Other accusations form the basis for the Republican-led probe, including arguments that the president's son received lenient treatment from the Justice Department.
House Ways and Means Chairman Jason Smith, R-Mo., said at a press conference on Wednesday that he has "serious concerns" about whether President Biden may be compromised by his son's foreign business dealings. He said the committee voted in a closed-door meeting to release additional materials provided to the panel by two IRS investigators who worked on a criminal investigation of Hunter Biden and told lawmakers that the probe was handled in a way that benefited Hunter Biden.
"I also have serious concerns about whether the president may be using his administration to protect himself and his family from scrutiny," Smith said. "The American people, they have a right to know their elected representatives are not abusing public office to enrich themselves or their families."
Democrats have cast the accusations against the Biden administration as an attempt to provide political cover for Donald Trump, the twice-impeached former president who is facing four different criminal cases but remains the front-runner for the 2024 Republican presidential nomination.
The White House called the hearing a distraction from the turmoil roiling the House GOP over a potential government shutdown.
Ian Sams, White House spokesman for oversight and investigations, issued a statement last week that said proposed cuts from House Republicans were "hurtling" the nation toward a government shutdown.
"Staging a political stunt hearing in the waning days before they may shut down the government reveals their true priorities: to them, baseless personal attacks on President Biden are more important than preventing a government shutdown and the pain it would inflict on American families," Sams said.
Comer, in an interview Tuesday, indicated that staff members working on the Biden investigation would continue to work even if the government shuts down.
"They've done a great job. They want to keep working. They said they're going to keep working, I'm going to keep working. I'm going to keep reading — people send us tips and stuff all the time," Comer said. "And we're not going to stop. The committee members are not going to stop, the staff's not going to stop. We're going to keep going."