Tight labor market in Las Vegas could help avert Culinary strike
Updated September 27, 2023 - 9:16 pm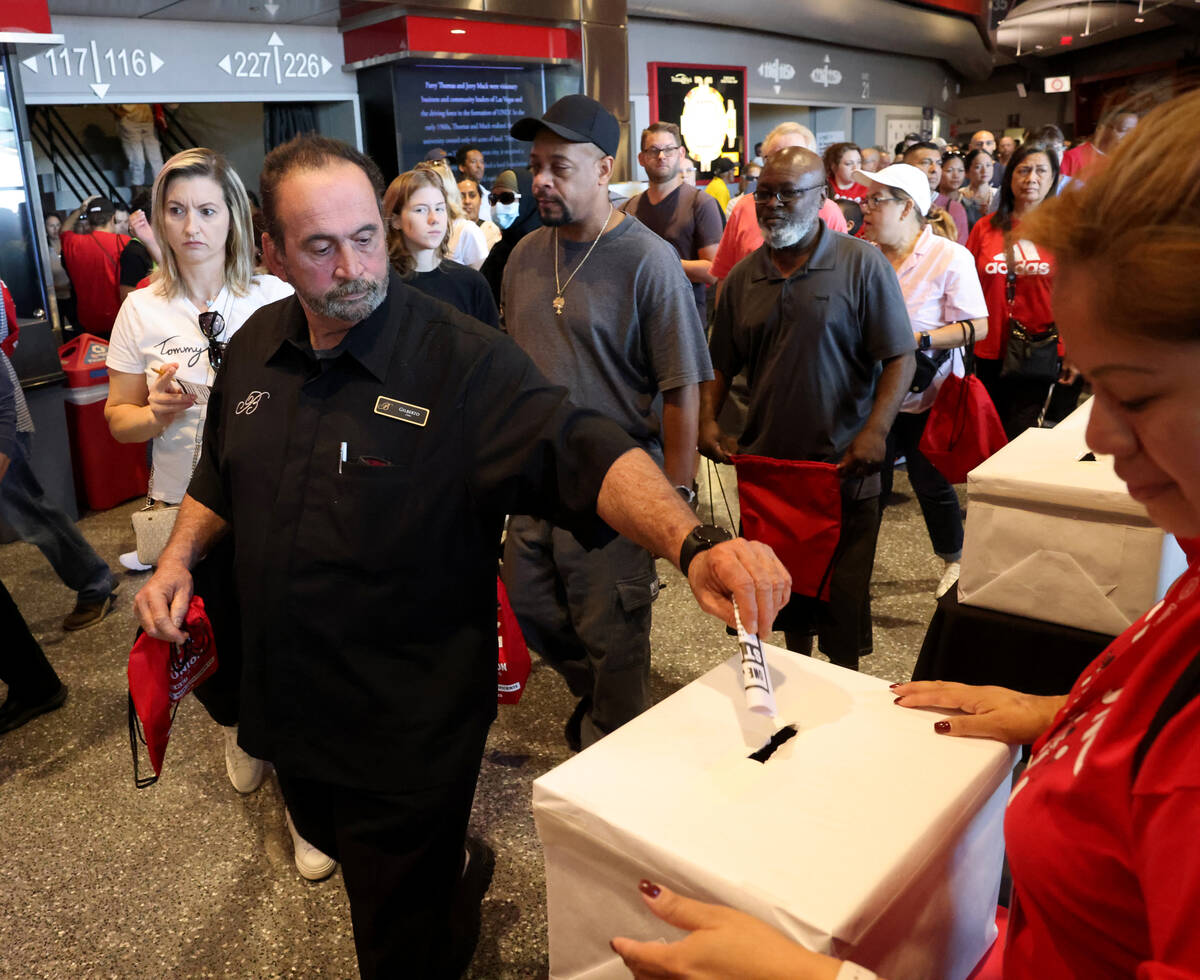 Las Vegas hospitality workers voted to authorize a strike in the city's dominant industry against a backdrop of other union strikes across the country, but experts say a tight labor market locally could force a deal before any walkouts occur.
Tens of thousands of Culinary Local 226 and Bartenders Local 165 members voted to authorize a strike if necessary in a 95 percent approval vote on Tuesday. No strike deadline has been set, according to Culinary officials.
"They want to demonstrate the union's leverage in negotiations," said Bill Werner, an associate professor at UNLV's William F. Harrah College of Hospitality, who isn't privy to union negotiations. "A lot of it is the threat of a strike – it doesn't mean they necessarily have to do it. It's been a long time since they actually went on strike, but there's always a question of when a union threatens to strike, is whether the members really will."
Negotiators have another round of contracts with the three largest gaming companies in Las Vegas – MGM Resorts International, Caesars Entertainment and Wynn Resorts – next week. If no deal is struck then, Culinary officials can set a strike deadline. Negotiations would continue.
Culinary Secretary-Treasurer Ted Pappageorge said the 22 Strip properties operated by those companies would be the first to see walkouts because their contracts are expired.
Pappageorge said the union is taking inspiration from ongoing strikes in other industries. In Hollywood, members of SAG-AFTRA, representing actors, have been on strike since July 14. Meanwhile the Writers Guild of America returned to work Wednesday after nearly five months on the picket lines. The United Auto Workers is conducting work stoppages at select plants in its strikes against the Big Three automakers, General Motors, Stellantis and Ford Motor Company.
And labor unrest has been happening closer to home. Unite Here Local 11, a Culinary-affiliated union in Southern California representing 32,000 hospitality workers, have been engaged in rolling work stoppages since July 2.
"If there is a strike called, it will be an open-ended strike until we get a contract, like the Teamsters, like the United Auto Workers, like the writers and the actors," Pappageorge said after the first round of voting Tuesday. "And I would just like to say this, it's a moment. There's a moment right now – it's a time for workers and they're ready to stand up and they're not willing to be left behind."
Culinary officials say they are negotiating for wage increases; lowered housekeeping quotas and mandated daily room cleanings; stronger on-the-job safety programs; extended recall rights and more.
The union contracts cover roughly 53,000 nongaming employees, including guest room attendants, servers, porters, bellmen, cooks, bartenders, laundry workers and kitchen workers at about 50 Strip and downtown properties. Culinary officials estimate there are 10,000 non-union restaurant workers on the Strip.
Experts say the union may have enough leverage to avoid a strike before a deadline is reached – or even set. They point to the tight labor market, the upcoming city-wide event calendar and increased labor competition when two new resorts will come online by the end of the year.
"I think both sides have potentially a lot to lose and a lot to gain," Dave Schwartz, a gaming historian at UNLV, said. "There's a lot of incentives for both sides to try to resolve things before it comes to a strike."
Jeff Waddoups, a labor economist at UNLV, said the union's bargaining power seems to be strong, but the uncertainty of just how strong it is may be what brings the labor activity closer to a strike.
"Strike activity has gone up quite a bit over the last year or so, and it's an interesting time out there because the workers have a lot of bargaining power," Waddoups said. "The quit rate is quite high, meaning workers feel really confident that if they quit their job, they could find another one. The ratio of job seekers to job openings is really low."
McKenna Ross is a corps member with Report for America, a national service program that places journalists into local newsrooms. Contact her at mross@reviewjournal.com. Follow @mckenna_ross_ on X.